Manningham Library
The Reception class went to Manningham Library to watch a performance based on the story of Rapunzel, and afterwards took park in a craft workshop where they got to design their own fabric bags. All the children received a book as a gift.
Reception Trip to Manningham Library
Puppet Show
The children in reception held a puppet show. They made all their own props and performed the show to the rest of the class.
Tatty Teddy and Ari Vronks Wedding
Reception organised and carried out a wedding for Tatty Teddy and Ari Vronk. We made bouquet's, wrote invitations, wrote wedding cards and made props for a photo booth. Reverend Mary came to carry out the ceremony. We sang songs and had a big party to celebrate. It was great fun.
We shared ideas about what job roles we needed and how to organise the day. This meant we had to listen to each other negotiate which ideas we were going to use and work as a team. We practised our writing skills when writing our invitations to our teddies, telling them when and where to the wedding was taking place. We needed our maths skills when measuring ingredients for the wedding cake and counting to make sure we had enough buns for all of our guests. Our creative and imaginative skills were needed when designing our photo booth and bouquets. We also learnt new things about people and communities through talking about different weddings and religions.
Taddy Teddy & Ari Vronks Wedding
Here in Reception, we provide a stimulating and hands on curriculum solely based around the children's interests and needs. We provide rich first-hand experienes to excite and inspire the children, giving them opportunities that they may have not previously encountered. Come and look at our learning journey so far, we have been very busy indeed!
We have made a super start to the term and have been very busy making friends, developing our confidence and taking part in lots and lots of messy play to develop our motor skills.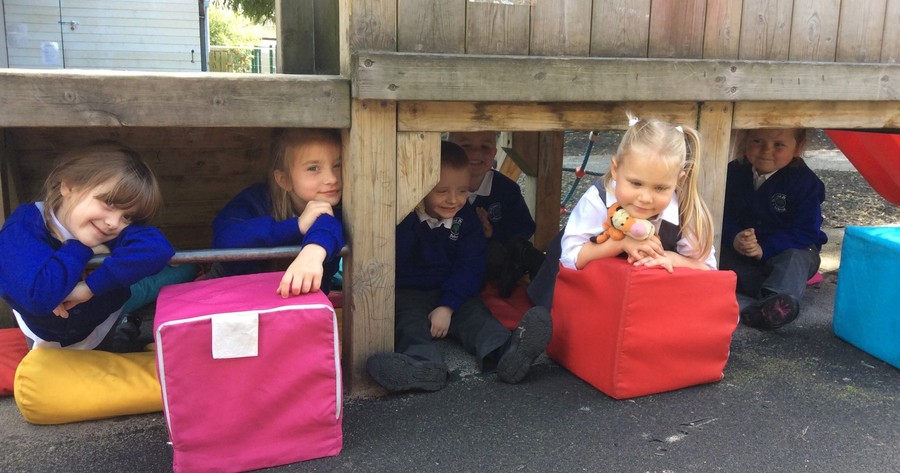 We found some blackberries outside so we decided to make an apple and blackberry crumble! It tasted delicious (there was even some left for the teachers)!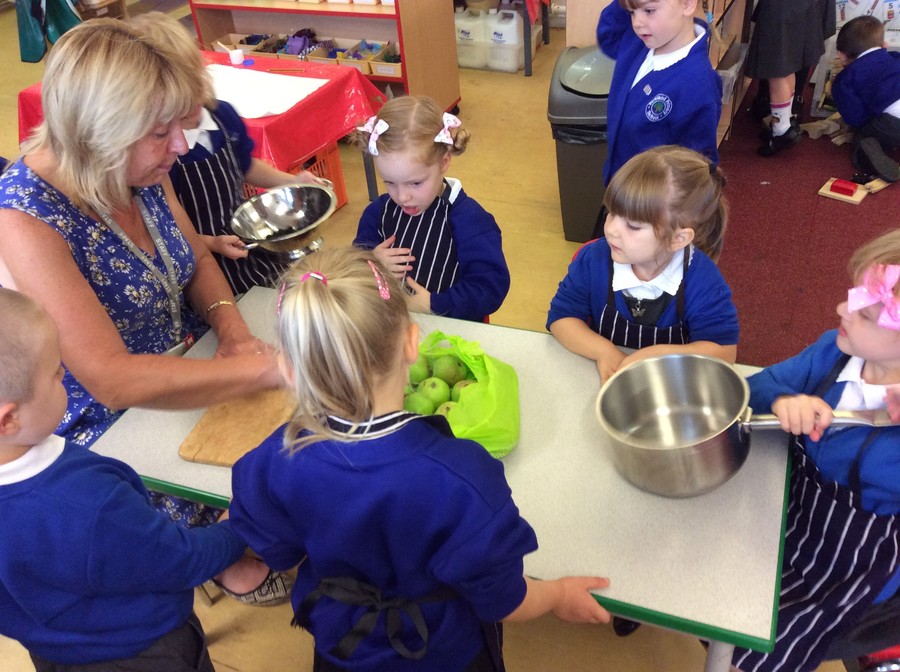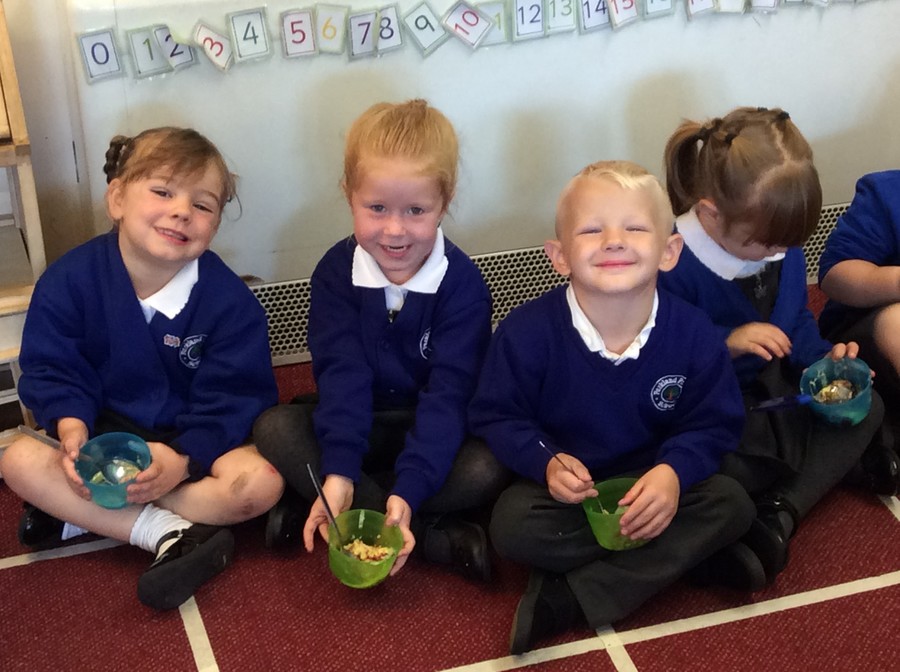 Lots of children were interested in the seeds found in the fruit from the snack table. Miss Badura explained that we can plant some outside, as well as some bulbs in the soil. The children helped to plant the bulbs. After, we talked about scarecrows and their purpose of scaring away the birds so they don't eat the bulbs. Together, we made a scarecrow and named her Sally.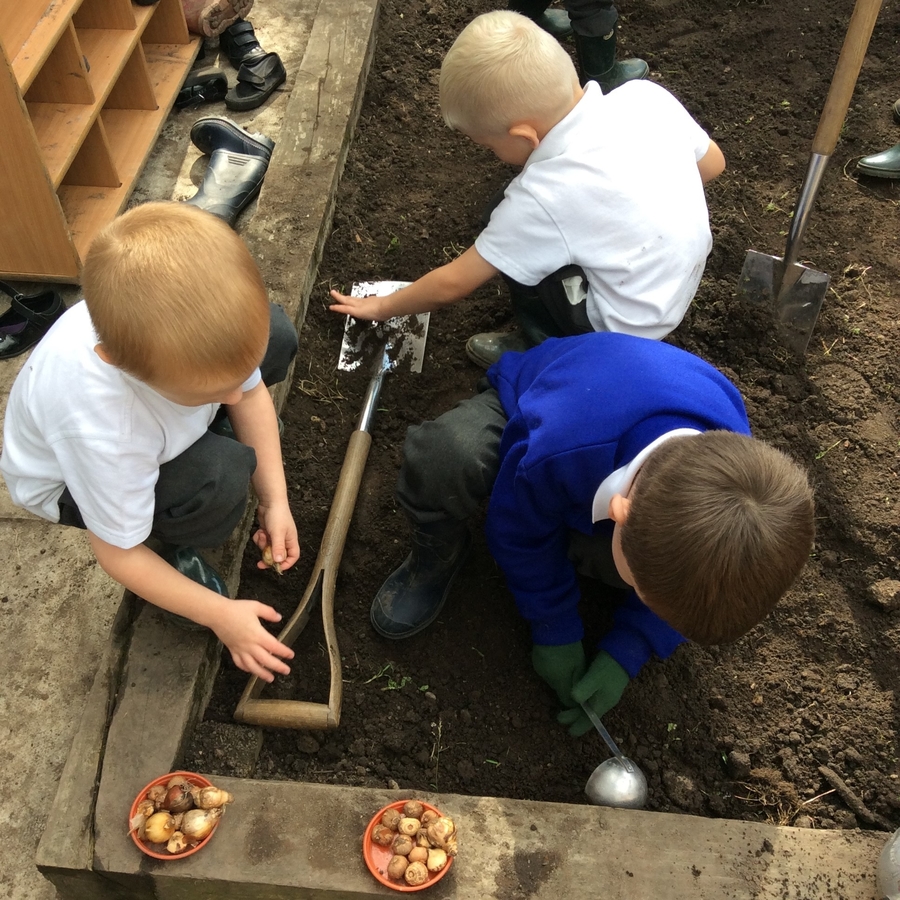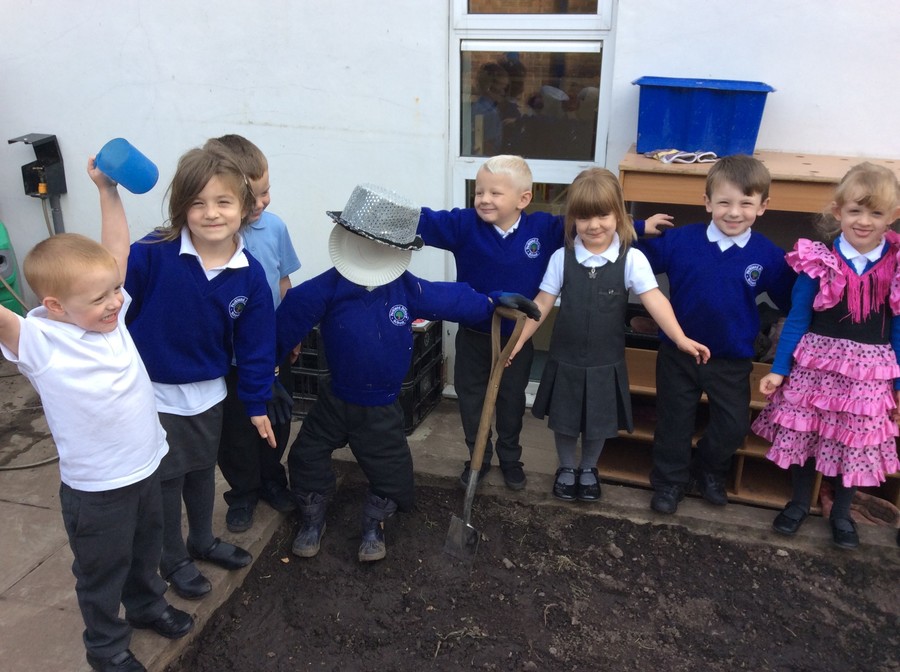 Many children showed an interest in books about bears and played a lot with teddies. We decided to make a 'bear cave' and read 'We're Going On A Bear Hunt.' The children learned lots about positional language as well as making their own props to support their bear hunt role-play.