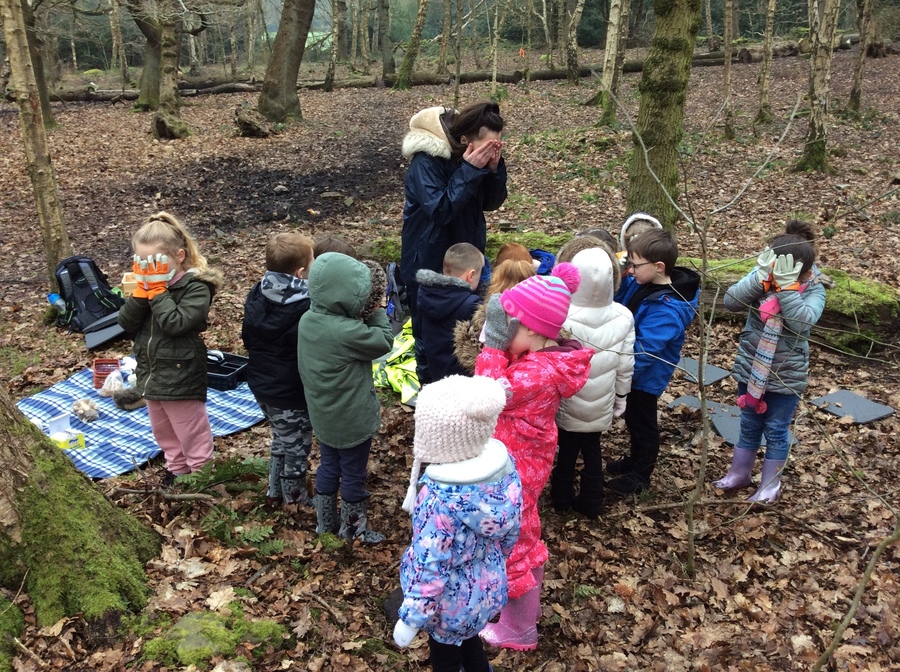 Forest School at Parkland
Forest School is firmly embedded into school life at Parkland. It is currently being lead by Miss Badura who gained her Level 3 Forest School Practitioner Award last year. We are very fortunate to have a school with several fields and playgrounds as well as easy access to the nearby woods where we carry out many of our Forest School sessions.
Forest School allows the children to explore the outdoors through their own ideas and imagination. Most activities are child led and allow the children to investigate and problem-solve, thus developing pupils who are independent and self-motivated. The activities are planned in small manageable steps, that we scaffold, to ensure that the children develop specific skills at their own pace and level. Children of all abilities are able to enjoy and learn at Forest School. Every child has their own special quality and strength; Forest School helps them build on these and develop new skills with confidence.
Some of our Forest School activities include: building shelters; woodland craftwork; telling stories; cooking over the fire; climbing trees; hunting for minibeasts and making dens (and many more)! As Forest School develops, woodland tools are introduced to extend learning and provide new opportunities for risk management.
This week, we had torrential rain and it was freezing! The children were brilliant and got stuck in, taking the weather in their stride. We put up a tarpaulin to shelter us and we had a go at making our own fires using a flint and steel.
This week at Forest School, we had a birthday party! We made our own party food, music, decorations and games. (We enjoyed doing the limbo the most!) We had SO much fun! As most of the snow had melted in the woods, it was extremely boggy! Lots of us got stuck in the thick, oozy mud! We had so much fun trying to get out, even if we did get a little muddy. As we were leaving the woods, we noticed a sign so many of the children used their phonic knowledge to sound out the words.
This week at Forest School, reception played lots of fun games (our personal favourite was Eagle Eyes)! Miss Badura told the children about a storm that had happened overnight and many animal habitats had been ruined. Our job was to build new homes for the animals. The children tackled the task with confidence and they made some fabulous homes. We worked as a team, developing our problem-solving skills.