Year 3 were lucky enough to have had a visit this week from some animals, this linked to our class topic predators. The children looked and learnt different facts about spiders and reptiles.
Bradford City Sponsored Penalty Shoot Out.
This year we raised the fantastic amount of £1976. Well done to all the children and many thanks to all who contributed.
BAFTA kids P2B road show along with 2 presenters from CBeebies came into school this week. They did a TV presentation workshop and story workshop. This encourages any one interested in TV arts/media. If you need any more information regarding this please visit http://baftakids.org/
The whole school joined in and celebrated the wedding of Prince Harry and Meghan. The children came to school dressed in red, white and blue and took part in lots of fun activities and had afternoon tea. Some of the children designed and made hats to wear on the day.
A massive well done to some of our Year 2 children who took part in a multi sports event at Woodhouse Grove and came away with a gold medal.
World book day 2018. Everyone enjoyed dressing up as either a character from their favourite book or in PJ's ready for a story. Thank you to all the parents who could attend the story sessions in class. Well done everyone, don't they look fantastic.
Some Year 3 children took part in Kwik cricket at the Karmund Centre, this was part of the Schools Sport Festival organised by Sports UK.
A group of gifted and talented children went to Blakehill Primary School to take part in a training session, lots of children have been using 'Tagtiv' equipment to support their maths. Being active supports a healthy body and a healthy mind.
Some children from KS2 where chosen to take part in a tag rugby competition which was held at Woodhouse Grove. All the children enjoyed themselves despite the cold weather.
Phoenix Dance Theatre came into school and ran a free NO BOUNDS dance session for some of are Year 5 and Year 6 boys. No bounds is aimed at energetic and enthusiastic boys who want to develop and learn new dance skills. Weekly class will be free of charge and are held at Kala Sangham Arts Centre every Thursday 5pm-6pm. Should you have any questions, please contact Sophie Wyatt on 0113 236 8130 or contact via email sophie.wyatt@phoenixdancetheartre.co.uk
Christmas Nativity 2017
This years Nativity was the Sleepy Shepherd it was performed by Reception and Year 1 classes. We are super proud of all the children they did a fantastic job.
Some children were taken to Subway at Greengates as part of healthy eating. They learned about how the subway company got started and how one man wanted to provide delicious but healthy food. They also learned about the importance of food hygiene. The children chose their own bread and created their own sandwiches using fresh ingredients. After the children had made their sandwiches they all sat down and enjoyed their creations. They are all now sandwich artists.
Sports for all
Some of our KS2 pupils where chosen to represent our school at the all sports event held at the Karmand Centre. The children participated in a variety of games including archery, netball and sit down volleyball.. They won the best resilience award. Well done to them all.
Children in Need
This year the theme was ' Rock the 80's' we dressed up in eighties, colourful or spotty outfits. At lunch time Miss Graham held an aerobic session in the hall, everyone has enjoyed the day and so far have raised £260 and hopefully this will increase. We will let you all know next week in our news letter.
Halloween Family Disco
A fabulous night was had by all the parents and children. A big thank you to all who could attend and the fantastic costumes that were worn. We would also like to thank the parents who helped to prepare the food and the staff who gave up their time to make sure everyone had a great time.
Sports Day
We were really lucky with the weather this year and everyone had a great time. The overall winners on the day where the green team followed by the blue team. Afterwards we had an award ceremony where each child received a certificate and an ice lolly. Thank you to all the parents, grandparents and carers who came to support the children.
Sports Day 2017
LAP Olympics
Some of our children took part in this years inter-schools Olympics which was held at Woodhouse Grove. A big well done to all the children and especially to Year 2 who won the sportsmanship award, each of them received a medal and a trophy.
LAP Olympics
We held a family trip to Idle library on Tuesday. Thank you to all the families who attended. The children joined the library and borrowed books to take home. If you would like to join the library, Idle Library is in the Wright Watson Centre in Idle village and is open Monday & Tuesday 9am - 7pm and Wednesday 1pm - 7pm
Idle Library Trip
Everyone had a great time on Thursday 15th June at our seaside-themed lunch. We enjoyed fish & chips, waffles & ice cream!
Seaside Lunch
Year Three have been learning all about volcanoes and had an afternoon making their own - there was lots of chemistry involved and some volcano maths too!
Year One trip to the Yorkshire Wildlife Park was on a freezing day but well worth it. The children met tigers eating their lunch and giraffes sniffing each other's bottoms and also got to find out lots about stranger creatures like hissing cockroaches. Their writing after their visit was amazing and full of lots of fantastic description of the animals they met.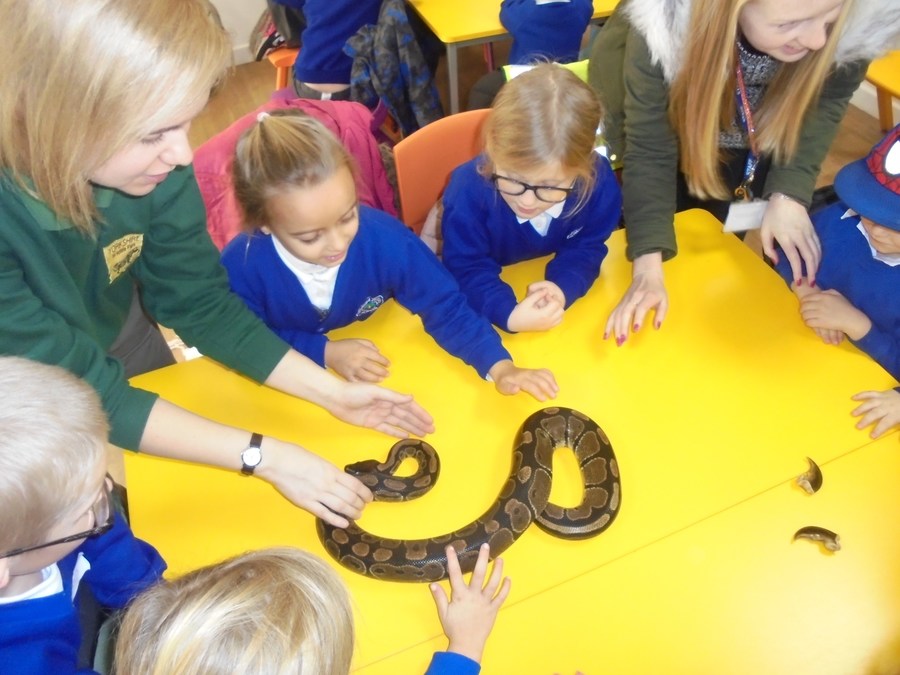 Year Two had a monster fashion show with the amazing monsters they had made for homework. Than you to parents for attending and look out for some Supermodels coming from Bradford in years to come!