Our Special Educational Needs and Disabilities 'Local Offer' is now available on this website under the 'Parents' tab.
Head Teacher's Welcome
I would like to welcome you to Parkland Primary School.
We are a one-form entry school situated on the Thorpe Edge estate, that aims to be at the heart of our community, working in partnership with pupils, staff, parents and carers, governors and others in the community. We also have Parkland Children's Centre and the Albion Family Centre on site. We are federated with nearby Holybrook Primary School.
The Federation shares a mission statement: "At Parkland and Holybrook Primary Schools, children learn in an atmosphere of courtesy, kindness and respect. By providing a stimulating, caring and enjoyable environment, we ensure that each individual is able to fulfil their potential."
The school provides a focus on basic skills within a creative curriculum. We ensure there is a supportive environment and a range of exciting additional opportunities for all pupils. Individual pupil progress is a priority.
Our most recent Ofsted report in July 2012 recognised the 'strong relationships between teaching staff and pupils' and that ''Pupils' behaviour is good and they have a good attitude to learning, settling to their work quickly and wanting to do their best.'
We pride ourselves on being a 'family school' where we know all our families well. Ofsted said, 'The school engages well with parents and carers and plays an important part in the life of the community'.
We welcome visits to school to discuss any queries or concerns.
Ms L Newcombe, Head of School
Ofsted visit
On Tuesday 10th June and Wednesday 11th June, Parkland Primary is being inspected by Ofsted.
Click the links below for relevant information for parents: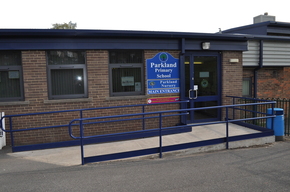 Doors open...
8:45-8:55 Doors open
8:55 Registration
11:45-12:30 Lunch (Reception)
12:00-12:45 Lunch (KeyStage 1)
12:15-1:00 Lunch (Years 3&4)
12:30-1:15 Lunch (Years 5&6)
3:00 End of school
Latest events Events
There are currently no events.
Calendars page(s): events >>
Click below for our latest newsletter